Visual Supports
What are they?
A visual support is a type of visual display that helps the learner engage in target skills or behaviours (Fleury et al., 2015)
Examples include:
Pictures
Written words
Activity schedules
First-then sequences
Labels
Organization systems
Choice boards
Objects within the environment
Calendars
Safety signs
Visual scripts
What kind of skills can visual supports be used for?
Visual supports can be used to aid learners in multiple different skills, including but not limited to:
Transitions between activities or routines, such as when a student needs to transition from math to gym class, or from work time to play time (Dettmer, Simpson, Myles, and Ganz, 2000)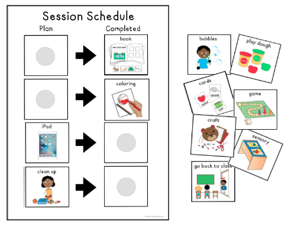 Complex skills, that need to be broken down into simpler steps (also called a task analysis), such as a bedtime, morning, bathroom, or school routine (Cohen & Demchak, 2018)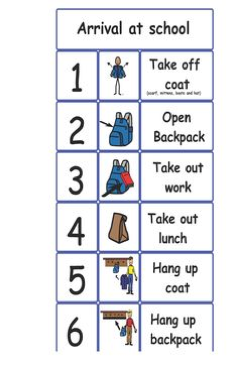 Group play activities, such as hide and seek, duck duck goose, or tag (Akers, Higbee, Gerencser, and Pellegrino, 2018)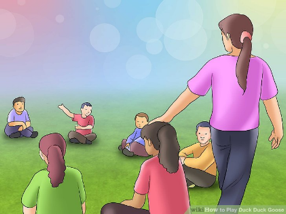 Social skills, such as initiating or responding to play invitations (Johnston, Nelson, Evans, and Palazolo, 2003)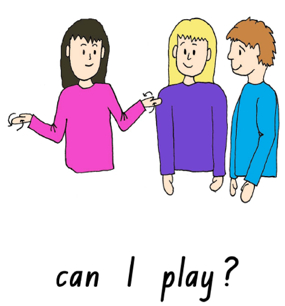 What are the benefits of using visual supports?
It is an evidence-based intervention
They can provide predictability in routines and activities for the student
They can make transitions more successful
Visual supports lessen the need for physical and verbal prompting, therefore increasing the student's independence
Visual supports are used naturally almost everywhere (i.e., signs, schedules, rules) so they are generally less stigmatizing than other types of intervention supports
How can you incorporate visual supports into your daily life?
Visuals can be integrated into daily routines to help provide your child with predictability and support. Common routines and complex skills can be broken down into simpler steps with a visual task analysis, in order to demonstrate to your child the different skills they must perform. Visuals can be put up into spots that the routine commonly occurs (such as the bathroom mirror for brushing teeth) or kept in a binder in your child's backpack for easy transport. A simple and effective strategy is to use a first-then schedule with velcro, placing pictures of the first and second activities on the schedule, then having your child remove the picture after the activity is done. Talk to your FCPG behavioural consultant about how we can help incorporate visuals into your day!
You may also be interested in: What can I do about my child's sleep problems?
Family Centred Practices Group designs and monitors intervention programs for families with young children who have been diagnosed with an autism spectrum disorder or related disability. Family Centred Practices Group is delighted to announce we are Canada's first and only Behavioural Health Center of Excellence (BHCOE).
The BHCOE is a reputable, international accrediting body in the field of behaviour analysis. Their assessments are developed by experts in the field to distinguish exceptional behavioural health providers. This accreditation certifies a continued demonstration of exceptional international clinical and administrative standards deemed by an independent third-party evaluator.
The quality of work performed by our staff, the effectiveness of our clinical applications, and the attentiveness to each child's individual needs is at the highest standard. To maximize a child's opportunity to reach his or her full potential, we emphasize a proactive approach to teaching and learning. We accomplish this by capitalizing on naturally occurring motivational conditions and the principles of positive reinforcement. Through the use of these and other behaviour analytic practices, a child's ability to experience success across environments is enhanced.
We gratefully serve families all across the Lower Mainland.This includes families living in the regional districts of Greater Vancouver and the Fraser Valley.
Tina Linton, M.Ed., BCBA – Clinical Director
Tina Linton received her Bachelor of Arts Degree from the University of Guelph in Ontario and her Masters degree in Special Education with a concentration in Autism and Developmental Disabilities at the University of British Columbia in Vancouver. She is a Board Certified Behavior Analyst (BCBA™) with over 20 years of experience working with children diagnosed with Autism Spectrum Disorders (ASD) in home, school, and community based programs. Tina began her career in Ontario working as a Behavioural Interventionist. She moved to Victoria, BC where she continued supporting families of children with ASD and assisted with the start up of the Autism Early Intervention Program at the Queen Alexandra Center for Children's Health in her role as an Autism Interventionist. When she moved to Vancouver, Tina began working with the Family Centred Practices Group and, after completing her Masters, was promoted to the role of Senior Behavioural Consultant. Tina also worked with Douglas College in their Behavioural Interventionist Citation Program and is a founding partner of the "Behavioural Interventionist Training Partnership". Tina assumed the role of Clinical Director in November of 2008 and began managing the business.