What to do if your child's transition didn't go as planned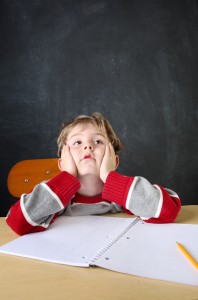 As we've discussed in previous posts, school transitions can be tough. Even the most thorough transition plans can go awry, for any number of reasons. If this has happened with your child's transition to a new grade or school here are four easy steps to help you get things back on track:
1. Meet with your child's principal. Make sure he or she explains who your school-based team members are and each of their roles. An important person to be aware of is the school's Resource Teacher (also known as the Learning Assistance Teacher.) The Resource Teacher acts as a kind of case manager for children with designations. He or she helps coordinate assessments and evaluations, provides consultation, and helps train the school-based team members. Resource Teachers are typically involved in arranging for consultants from outside of the school team to visit as well.
Another important person on your child's team is the Teacher's Assistant. Most classrooms will have a Teacher's Assistant if there are one or more children with a designation in the classroom. Some schools may still in the process of figuring out staffing levels and planning assignments. It is very important for you to advocate to find out who the Teaching Assistant in your child's classroom is and how much support your child will be getting throughout the school day. Because of budget constraints, it is sometimes necessary for Teacher's Assistants to spread their time across various students, teachers and/or classrooms, and you need to know how this will impact your child.
2. Set up a home-school communication system so that information regarding your child is successfully being shared between yourself and your child's home- and school-based teams.
3. Set up a time for your Behavioural Consultant to observe your child at school and liase with your child's school-based team members.
4. Schedule a date to create your child's Individual Education Plan (IEP). An IEP is a living document that lays out specific goals and outcomes for your child and identifies the resources and support services necessary to help your child achieve those goals and outcomes. It is important to set up an IEP as soon as possible once your child is oriented to his new grade and teacher(s). The middle to end of September or early October is a good time to meet as a team and plan for the appropriate education of your child. IEP meetings give families the opportunity to highlight their child's strengths, identify areas where extra support is needed and set measurable goals for the new school year.
Stay tuned for some handy resources to help you and your family have a successful IEP meeting.